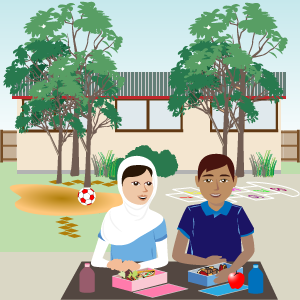 Ravi and Miriam looked in their lunch boxes and decided what to eat first.
"I'll have a falafel," decided Miriam.
Ravi looked at his apple. "I wish I had grapes," he said. "I wonder why I can't have grapes in my lunchbox every day?"
While Ravi ate his apple, Miriam was thinking about his question. "You know what," she said, "after lunch let's ask Mr Graham. It's a good question and I want to know the answer too!"
How can we help Ravi and Miriam?
In this project we will be helping Ravi and Miriam to learn about plants and then plan and make a class garden in their school. Your class might also be planning and making a class garden or perhaps a similar project.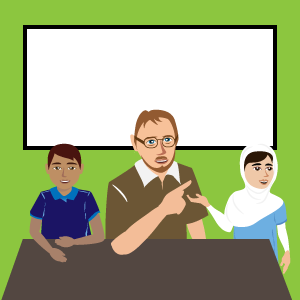 That afternoon, after quiet reading, Ravi and Miriam asked Mr Graham, "Why can't we have grapes in our lunchbox every day?"
Mr Graham looked pleased. "What a great question," he cried. "It has a complicated answer and I don't want to just tell you. So let's work together to answer it."
Mr Graham called the whole class together and asked Ravi to ask everyone his question. He then split the class into teams to think about what they though the answer was.
How can we help Ravi and Miriam?
Organise the class into teams (your teacher may assign the teams).

Create an online learning journal or shared work space for the project.

Establish team roles and discuss rules for good teamwork (you may wish to use this Team roles template to get started).

Make a list of some questions you have about plants and how they grow.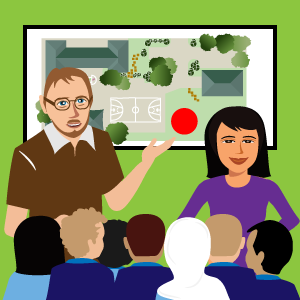 Mrs Chan, Mr Graham and the children looked at the school map on the board. One patch of land was circled in bright red.
"Hooray!" said Mrs Chan. "I'm very excited children. I think this will be a great place for our class garden."
"What's next children?" asked Mr Graham. "What do we do now?"
"Grow grapes," said Ravi with satisfaction.
"Can we?" asked Miriam. "What soil type do grapes need?"
"It sounds like we need to know more about what will grow in our school's conditions," said Mr Graham. "Time for some more research!"
How can we help Ravi and Miriam?
As a team, present what you have learned about your space to the rest of the class. Remember to discuss the soil, water and sunlight conditions in that part of the school.

As a class, vote on the best location for the class garden.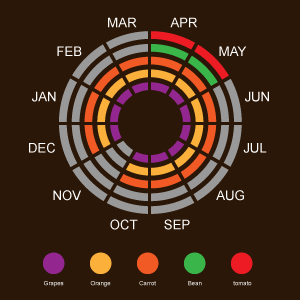 The next time the class got together to work on their project, Ravi was sad. "No grapes," he said to Miriam.
"They are hard to grow and only grow in certain places around the world. Plus it is the wrong time of the year," sympathised Miriam. "Even if we did plant grape seeds now, they wouldn't sprout. We'll just have to choose plants that grow well right now. How do we find that out?"
How can we help Ravi and Miriam?
Use planting guide websites to research the types of fruits and vegetables that would grow well in your class garden.

Record your findings in your journal.
"I have a surprise," said Mr Graham. "Mrs Mueller from our local nursery has come to talk to us about the plants she grows for sale, and to give us some tips and tricks before we start planting. What questions should we ask her?"
How can we help Ravi and Miriam?
Talk to a local gardening expert (or visit a gardening expert website).

Ask any questions that you still have about what to plant in your class garden, the best time to plant and how to look after your plants.

Record your questions, answers and any new information in your journal.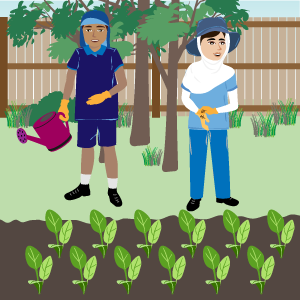 Ravi and Miriam looked down at the neat rows of dark soil. Miriam brushed the dirt off her gloves. "What a wonderful garden," she said.
"I know," said Ravi. "I'm so pleased that we got to answer my question."
"What about the grapes though?" asked Miriam. "Are you still sad about them?"
"A little," laughed Ravi. "But Mum says that they are coming into season soon, so she will buy some for me. And I found out something even better!"
"Better than grapes!" cried Miriam. "I thought grapes were your favourite."
"They are my favourite fruit," said Ravi. "But my favourite vegetable is spinach." Miriam looked at the long row of planted seeds, all of them spinach, and smiled. "Mr Graham said that when they grew, we can make a pie and I can eat as much as I want! I'm so excited!"
"I can't wait either," said Miriam, as they walked away to wash their hands.
How can we help Ravi and Miriam?
As a class, you are now ready to plant your class garden (or other task that your class decided on as part of this project).

After you have finished, consider what you have learned during this project. Your teacher will lead you through an activity on reflecting on, recording and discussing you learning as a class.